Assessment of Major Depressive Disorder
Here in this post, we are providing the "Assessment of Major Depressive Disorder ". You can discuss more your concerns about mental health in our community, and we will provide you with tips and solutions in a short time. Keep visiting Mental Health.
Psychological Assessment
A systematic process of obtaining information from participants and using it to make inferences or judgments about them. In a clinical context, this process is known as a psychological assessment.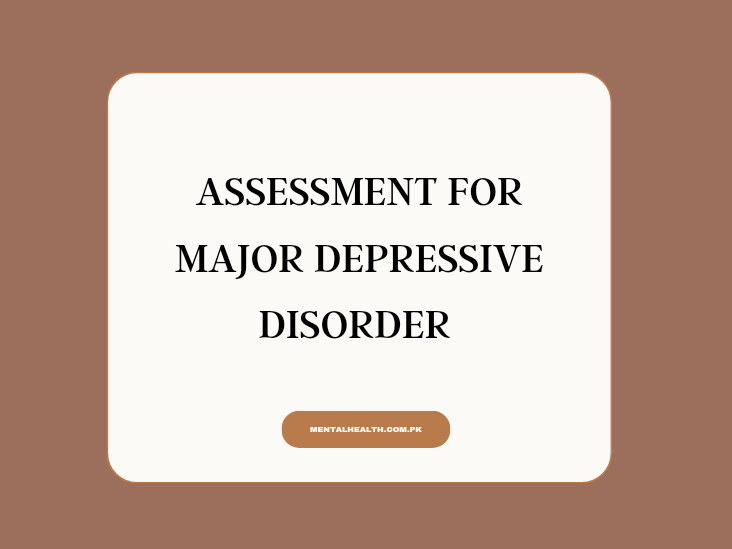 Factors for the assessment
Following factors should be considered for the assessment of major depressive disorders
 

Nature

Duration

Severity of the presenting disorder

 

Associated functional impairment

Confirmation/rejection of Prognosis
Assessment of major depressive disorders
A depression assessment should:
include a full history and examination, including a mental status examination

Explore functional, interpersonal, and social issues

take a psychiatric history that documents past episodes of depression or mood elevation, response to previous treatment, and the existence of comorbid mental health conditions

assess client safety and risk to others. Suicidal intent should be assessed regularly.

obtain a third-party history from family members or other caregivers if the client consents and it is appropriate.
Assessment Tools
Following tools are used for assessment of major depressive disorders such as
 Questionnaire
Following questionnaire used for assessment of major depressive disorders 
Beck Depression Inventory (BDI)
Hamilton Rating Scale for Depression
Montgomery-Åsberg Depression Rating Scale (MADRS)

Follow