Depression treatment with mindfulness
Here in this post, we are providing "Depression treatment with mindfulness ". You can discuss your concerns about mental health in our community, and we will provide you with tips and solutions in a short time. Keep visiting Mental Health.
Treatment of depression
A new study demonstrates that mindfulness-based cognitive therapy may help improve self-kindness in persons with a history of depression.
Researchers from the universities of Exeter, Oxford, and Magdeburg collaborated on the study, which found that mindfulness-based cognitive therapy might stop the loop of negative self-talk and depression relapses caused by low self-esteem and despair.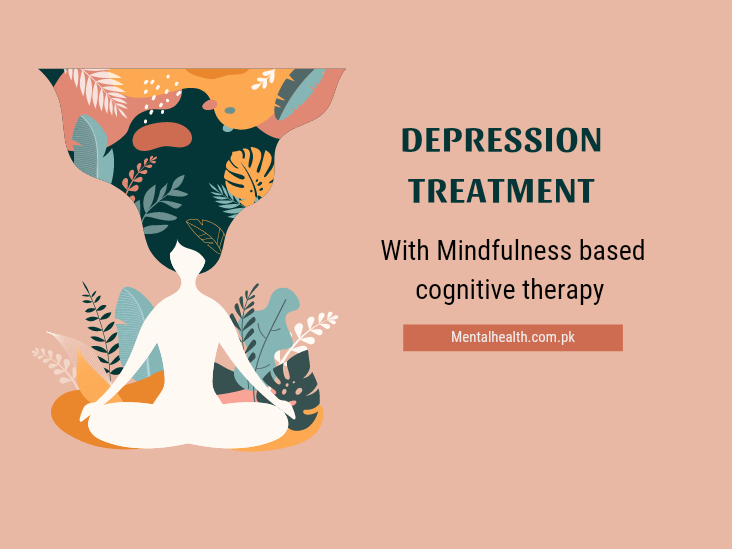 Cognitive treatment based on mindfulness is a hybrid of mindfulness and cognitive therapy. It promotes self-awareness, kindness, and a more balanced approach to stressful situations. Practicing this technique may help prevent future spells of depression. People with recurrent depression who learn to be more empathetic toward themselves benefit from mindfulness-based cognitive therapy.
This research will help to better understand how mindfulness-based cognitive treatment (MBCT) decreases recurrence
Cognitive therapy focused on mindfulness 
Therapy focused on mindfulness is designed to help people overcome their negative thinking habits. Cognitive Behavioural Therapy (CBT) aspects are included in meditation, breathing exercises, and stretching treatments.
It encourages you to concentrate on the here and now and to treat yourself with compassion. Developing the ability to pay attention to the thoughts and feelings that arise in one's mind and body helps familiarise oneself with patterns and routines. Mindfulness-based cognitive therapy offers a more positive way to cope with overwhelming sensations by bringing awareness to early warning indicators before stress, despair, or anxiety develops.
Enhancing self-compassion in depressed individuals
Remission from depression and the risk of depressive recurrence were evaluated in 50 persons. After an eight-week course of mindfulness-based cognitive therapy, one group of 25 persons with recurrent depression was examined before and after the treatment and compared to the control group.
"It's reassuring to find that an evidence-based therapy like MBCT may enable persons with recurrent depression to transition to a kinder self-view and an associated bodily condition of safety," said Dr. Hans Kirschner, the study's lead author from the University of Magdeburg. We are hopeful that this will increase people's ability to bounce back from depression and avoid a recurrence. Nonetheless, this theory will need to be put to the test in future studies."
When they practiced self-compassion meditation a second time, those in the untreated control group showed bodily reactions suggestive of a more negative reaction.
Researchers also drew on their prior work, which indicated that a short exercise in self-compassion might temporarily trigger a pattern of kindness toward oneself and a sense of security in healthy people. Self-compassion exercises alone were not enough to induce a sense of safety in persons with depression, but mindfulness-based cognitive treatment was.
Professor Anke Karl from Exeter University said: "This study extends our previous research that found a brief self-compassion exercise could temporarily activate a pattern of self-kindness and feeling safe in healthy individuals, but in individuals with recurrent depression, we know that this is unlikely."

Follow