People With Mental Health Problems
Here in this post, we provide "People With Mental Health Problems". You can discuss your concerns about mental health in our community, and we will provide you with tips and solutions in a short time. Keep visiting Mental Health.
People With Mental Health Problems
Getting the support you need helps to open up about your concerns with those who are also dealing with mental health challenges.
Reaching out for help might be frightening, but it is frequently the first step toward healing, growth, and recovery.
Talking openly about your mental health requires a strong support system and a willingness to
open 
out 
to 
others.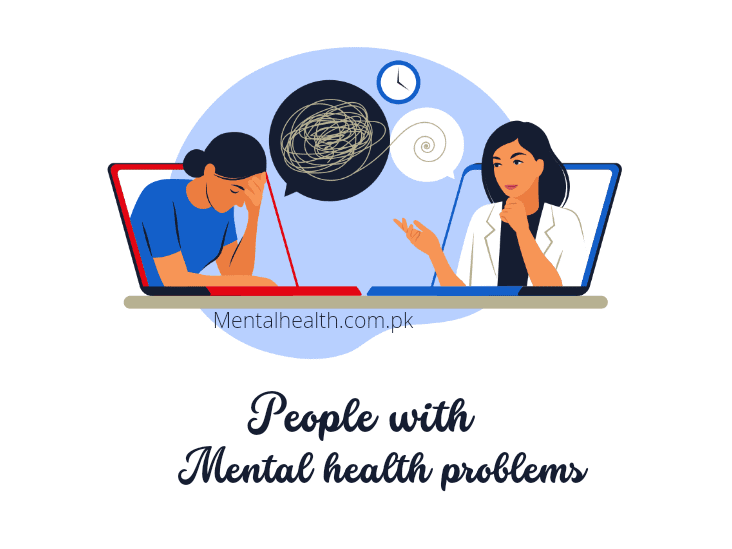 Build Your Support System
Find a person you can trust, such as a parent, a family member, a teacher, a religious leader, a health care practitioner, or anybody else:
Gives good advice when you want and ask for it; assists you in taking action that will help
Likes, respects, and trusts you and who you like, respect, and trust, too
Allows you the space to change, grow, make decisions, and even make mistakes
Listens to you and shares with you, both the good and bad times
Respects your need for confidentiality so you can tell them anything
Lets you freely express your feelings and emotions without judging, teasing, or criticizing
Works with you to figure out what to do the next time a difficult situation comes up
Has your best interest in mind
Find a Peer Group
See if you can find a support group of others who are going through the same thing as you. Individual recovery can be aided by relationships of peer support because:
When two people share similar life experiences, they have a unique ability to aid each other because of their shared past and profound understanding.
People contribute their experiences, strengths, and hopes to peers, which allows for the natural progression of personal growth, wellness promotion, and recovery
Peers can be highly helpful because they have "been there" and serve as real examples that persons can and do recover from mental health difficulties.
Advocates and supporters for individuals who may be subjected to prejudice and discrimination are also provided by peers.
Start or join a self-help or peer, support group, if you're feeling overwhelmed. Peer support networks and peer advocates can be found at national organizations all around the country.
See if you can find a group that can assist you in making connections with other people who can provide support.
Participate in Your Treatment Decisions
Additionally, it's crucial for you to be educated, informed, and engaged in your own mental health.
Research mental health wellness and information relevant to your diagnosed condition as much as you can.
Become an active participant in your own healthcare process.
Shared decision-making allows you to have a say in how you're being treated. Make educated treatment decisions with your mental health provider by actively participating in the process. Shared decision-making requires complete participation from all parties.
Understanding that a choice must be made
Seeing each other as equals in the process
Deeming all options equal
Understanding and expectations are examined.
Recognizing your own preferences
Options/concordance are being negotiated.
Consensus-building
Ensuring that the results of decision-making are being monitored and evaluated
Participate in Your Treatment Decisions
Individuals who are in a state of recovery work to improve their health and well-being, take control of their lives and push themselves to their limit. According to research, the majority of people who suffer from mental health issues improve, and many even fully recover.
You may wish to put together a documented plan of action for your recovery. Plans for recovery:
Allow you to set goals for improving your health.
Describe the steps you'll take to achieve each of your goals.
Goals can be both short-term and long-term.
Keep a log of your mental health issues.
Recognize your triggers or stressful occurrences and teach you how to cope with them.

Follow