Who can diagnose Major Depressive Disorder
Here in this post, we are providing the "Who can diagnose Major Depressive Disorder". You can discuss more your concerns about mental health in our community, and we will provide you with tips and solutions in a short time. Keep visiting Mental Health.
Who can diagnose?
Major depressive disorder can diagnose by the following people:
Six-year training in the area of psychology. Have Knowledge, skills, and a strong grip in DSM.
Only your doctor or certified specialist can identify you as suffering from mental health issues. The professionals who treat major depression are specially trained to give the right diagnosis. Even though it is true that the identification of major depressive disorder is mostly dependent on the Psychologist's assessment the doctor might ask you to complete self-assessment or questionnaires which are designed to ask your questions related to the symptoms you are experiencing.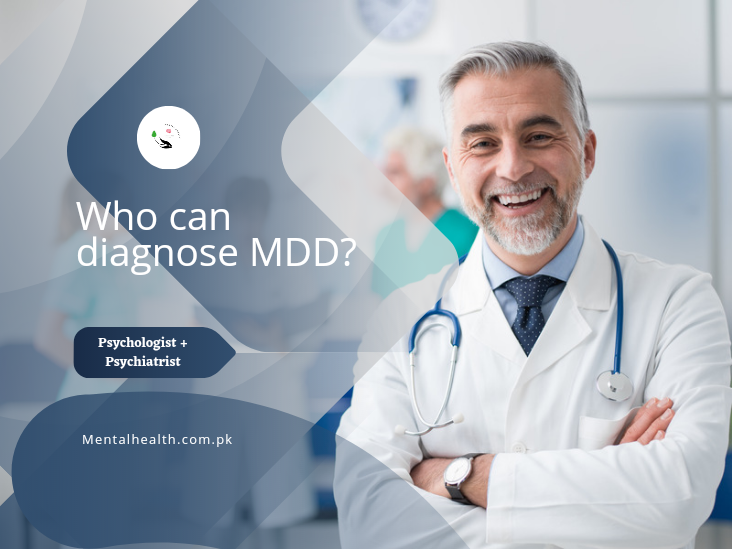 This test will provide your therapy therapist some idea about the severity and time span of your symptoms in addition to providing additional details for diagnosing purposes.
In the interview, your therapist will be asking deeper questions to help make a precise diagnosis. As an example, for instance, you could be asked about the history of your health, conditions, or recent changes. The entire process of diagnostic evaluation usually takes between the span of one to two visits.
In determining the diagnosis the therapist will determine whether you meet the diagnostic criteria of major depression. This book, the Diagnostic and Statistical Manual of Mental Disorders Fifth Edition (DSM-5) is a manual that lists the diagnostic criteria applicable to all mental health issues. Your therapist or physician will refer to the DSM-5 when determining the severity of your condition.

Follow