Family Therapy
Here in this post, we are providing "Family Therapy ". You can discuss more your concerns about mental health in our community, and we will provide you with tips and solutions in a short time. Keep visiting Mental Health.
Family Therapy
Family therapy is a form of psychotherapy that focuses primarily on family dynamics and creating healthier relationships within families. Family therapy addresses the psychological, emotional, and behavioral issues that can cause family problems. To maintain healthy relationships, family members will work together with a therapist.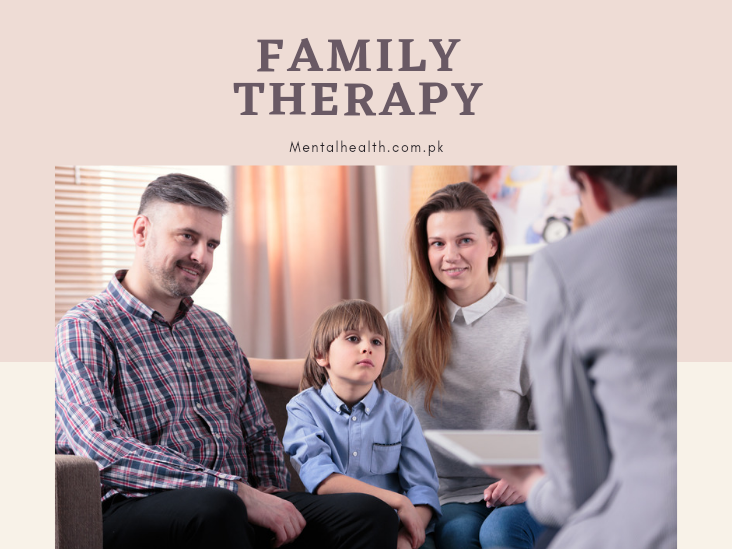 Overview
Family therapy is a term that refers to the group of family members who seek counseling. It's a way to build and maintain healthy, functional family relationships. It is designed to address family problems and identify them. These problems could be psychological, emotional, or behavioral. Family systems theory is a common approach to family counseling. Family systems theory suggests that families function in systems and not as a group of individuals who work independently. Although it is beneficial for everyone to participate in family therapy, this doesn't mean that all members of the family have to be involved. This therapy is focused on family dynamics and interactions.
Family therapy is usually short-term and has specific goals. Family therapy examines your family's patterns, conflicts, and communication methods. Family systems theory states that changes in one member of the family will have an impact on other members.
How family therapy Works?
This can be particularly helpful if someone in your family is suffering from:
Relationship or financial problems
Marital problems
Substance use disorder
Mental health condition
You and your therapist can help you identify problematic patterns in your family by working together. This includes examining your family's problem-solving skills, boundaries, and authority structures as well as communication habits.
The therapist will work with you to create a plan for improving communication and problem-solving skills in your family. Although family therapy will not resolve all conflicts you or your family have, it can help you to develop better-coping skills and communicate more effectively with one another.
Types of Family Therapy
Family counselors may offer home visits. These may offer families more comfort than traditional office-based sessions. Other families might prefer counseling in a home setting.
There are the following types of family therapy:
Functional family therapy
Multisystemic therapy
Transgenerational therapy
A brief strategic family therapy
Structural therapy
Functional Family Therapy
This therapy is usually focused on families that have a child or adolescent with complicated emotional or behavior problems. The 8-30 weekly sessions may be attended by the child and their parents. Families will learn ways to manage their child's behavior and improve their family functioning through these sessions.
Multisystemic Therapy
This therapy addresses any emotional and behavioral problems that children and adolescents may have. Multisystemic therapy addresses broader issues that affect the behavior of children. Multisystemic therapy could be used to improve the child's interaction with a social system such as schools and neighborhoods.
Transgenerational Therapy
Family therapy is conducted by a therapist who studies interactions between generations such as between parents and their children. This therapy aims to identify the causes of family problems through communication. Transgenerational therapy can be useful when problems and behavior patterns are persistent across generations. It may also be used to help predict what problems might arise in the future.
A Brief Strategic Family Therapy
This therapy aims to improve the interaction between family members. This therapy is limited in time and focuses on family problems that can lead to youths with problematic symptoms.
Structural therapy
Structural therapy addresses problems caused by the family structure. It seeks to create a balanced family hierarchy and appropriate boundaries between members. The main distinction between structural therapies and other forms of therapy is that they focus more on structure than the specific behaviors that can cause problems.
Benefits of Family Therapy
Therapy benefits vary from one family to the next. These benefits can include:
Developing healthy boundaries
Communication improvements
Determining the role of someone in the family
Family dynamics and relationships can be improved
Family members can get support and coping skills by being strong
Addressing dysfunctional interactions
Enhance the family's problem-solving abilities
Skills for dealing with difficult situations
Offering new insights and understanding
Recognizing family problems
Providing strategies for handling conflict
Strengthening and improving relationships
One of these evidence-based approaches to family therapy might be used. Or, your therapist may use elements from multiple approaches.
What should you expect from family therapy sessions?
Families often have the same goals. These goals usually include:
Explore how family members interact with each other.
Recognizing and correcting any dysfunctional communication patterns within the family system.
Using the strengths and resources of the family to make it work.
Empowering the family to solve problems better.
How does family therapy look like?
While each therapist is unique, the following outline shows how family therapy might look:
Initial intake
Assessment
Mapping the family structure
Creating a treatment plan
Initial intake
You and your therapist may discuss the issues that brought you to therapy. Each person will have the opportunity to discuss with their therapist the major problems that they are facing or their family.
Assessment
Your therapist will likely gather information from you over the next few sessions to create a picture of your family, and how it functions.
Your family history
Family roles
Parenting and discipline
Your family's coping skills
Your therapist will help you understand the challenges your family faced and how you handled them as a group. You may be asked by your therapist to reflect on who is in control of your family and how decisions are made. Your therapist may take a strategic approach when it comes to family therapy. You might discuss how the issue that brought you to therapy is serving a particular function in your family. You may be asked to reflect on the effectiveness of certain family coping strategies.
Mapping the family structure
If your therapist uses a structured approach, the next step could be for the therapist to create a map that explains the hierarchy of your family. This map can help you understand how authority and boundaries are used in your family. It may also show you the changes that may occur over time.
Creating a treatment plan
Family therapists are more interested in solving problems and less in blaming others.
You and your therapist can discuss a plan together that will outline what you, and any family members participating in therapy, can do to improve communication and problem-solving.
You may be able to find ways to increase your family's strengths as part of your treatment plan.
How do you find the right therapist to help your family?
It is crucial that you find the right therapist to work with you and your family. To find the right therapist for you, it's okay to take your time and ask questions.
These considerations are for:
Are they licensed in your state as a therapist?
Is the therapist familiar with treating families with similar problems?
Are you able to feel supported and heard during therapy sessions?
Is your therapist covered by your health insurance?
Is the therapist located near your workplace or home?
Is the therapist able to offer virtual mental health services for clients?
Follow