Post graduation depression and anxiety management
Here in this post, we are providing "Post graduation depression and anxiety management". You can discuss your concerns about mental health in our community, and we will provide you with tips and solutions in a short time. Keep visiting Mental Health.
Post-graduation depression and anxiety
Post-graduation depression is defined by Southern New Hampshire University (SNHU) as "depression in young adults that often occurs right after they complete university coursework, often due to pressure to get a job right away or sadness leaving their college peers and life behind."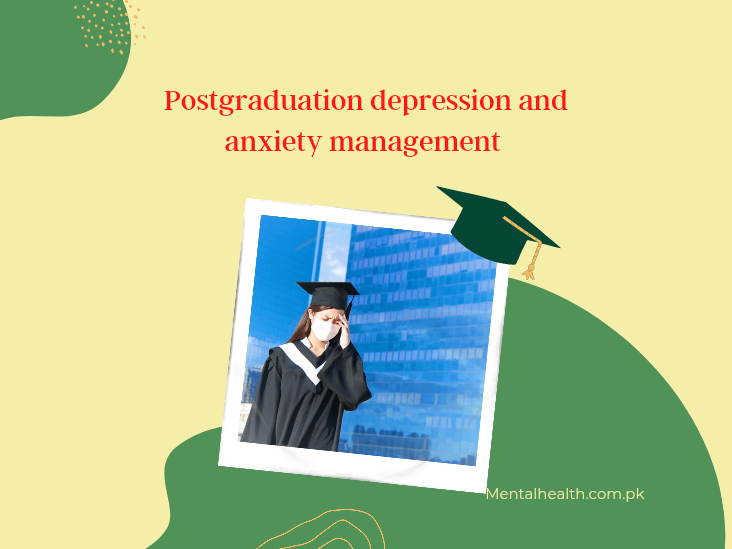 In addition to the fact that college graduates have spent much of their lives in a classroom, these aspects of graduation leave many with an air of uncertainty following graduation, which can take several forms. According to SNHU, signs of post-graduation depression include feelings of hopelessness, loneliness, melancholy, and a lack of motivation.
But there are ways to lessen the impacts of shock, which can lead to post-graduate sadness. The following are some things students should keep in mind when applying for jobs.
Stay connected, but branch out
Staying in touch with family and friends can ease the transition from college to the working world. Emotional support is available even if you don't see individuals on a daily basis. Weekly phone, text, or video chats can make a huge difference. Even though college is a new chapter after high school, your time after graduation is also a new chapter after college, you shouldn't rely solely on the friends you established there. Make new acquaintances and build relationships with others.
Plan ahead and set achievable goals
A student's post-graduation aspirations or higher education ambitions should be mapped out before the end of their high school experience. If you're thinking about getting a career after graduation, you should start looking into your alternatives as soon as possible. Apply to graduate schools as soon as possible if you plan to continue your education after the bachelor's degree. Explore housing alternatives based on where you'd prefer to live after graduation or where your profession will take you, no matter your ambition. Each day, students can set tiny, attainable goals that they can achieve one by one as they near the end of their school career.
Try to manage your stress and anxiety
Self-care and stress management can take many forms, ranging from regular exercise to a healthy diet to ensure you get enough sleep. It's possible to slow down your brain and reduce anxiety by engaging in activities like meditation and deep breathing. When your mind is at ease, it's a lot easier to come up with a prioritized list of tasks.
Reach out for help if you need it
It's also crucial to understand when and if you require outside aid. If your anxiety, stress, or depression noticeably influence your life, it's possible you might benefit from expert advice.
Seek out therapists, counselors, or other professionals at https://mentalhealth.com.pk

Follow