Psychotherapy
Here in this post, we are providing 'Psychotherapy.'. You can discuss more your concerns about mental health in our community, and we will provide you with tips and solutions in a short time. Keep visiting Mental Health.
Overview
Psychologists can help you to deal with your problems. Psychotherapy helps people to live more productive, happier, and healthy lives. In psychotherapy, scientifically approved systems are applied by psychologists to assist individuals with creating healthy and effective habits.
Following are the ways to deal with psychotherapy to help people to resolve their problems such as
Cognitive-behavioral
Interpersonal
Other types of talk therapy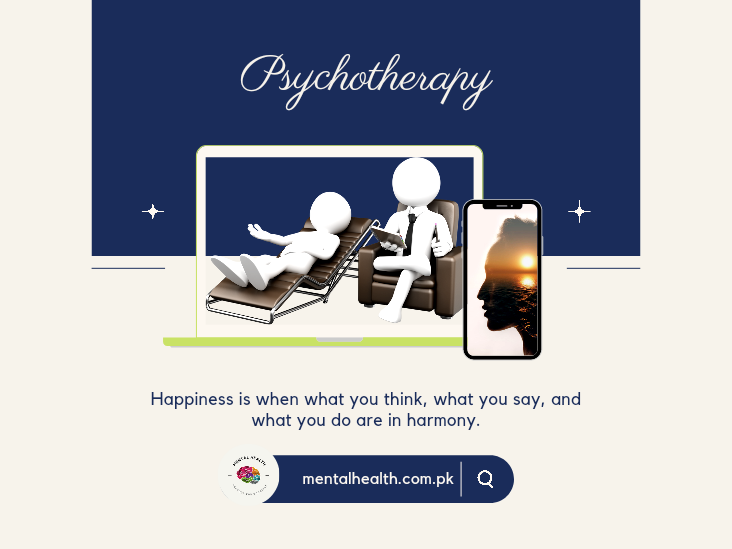 It is a collective method that depends on the association between a psychologist and his client. It gives an environment in which an individual is able to talk openly with the psychologist who is nonjudgmental and neutral.
The client and psychologist mutually identify the problem and set goals for resolving the problem. They will work on thoughts and behavior that cause problems in his life.
Through psychotherapy, you not only resolve your issues but also learn new skills. Individuals will also learn to deal with future challenges.
When do you take psychotherapy?
Due to the numerous misinterpretations about psychotherapy, you might be hesitant to try psychotherapy. Regardless of whether you know the real facts than the misconceptions you might think worried about trying it yourself.
Controlling your nervousness is a good step because your quality of life is changing at any time against your desire.
Some of the individuals look for psychotherapy since they have depression, anxiety, and anger issues for a longer period of time. Others may need assistance for a constant ailment that disturbed their physical and emotional wellbeing.
Some people have temporary issues, they require assistance to resolve. They might be having a separation, feeling excited about a new job, and grief of a relative's passing.
Following are the signs through which you could get benefit from therapy:
You experience sadness, helpless and overwhelmed
Your issues don't seem to improve instead of support and assistance from friends and family
You think that it's hard to focus on work tasks or to do other regular activities.
You have excessive worry, think about the worst, and are continuously anxious.
Your activities such as drinking alcohol excessively, drug addiction, or aggression, are hurting you or others.
Type of psychotherapy
Psychotherapy has many types. Psychotherapists use a combination of one or two therapies form. Hypothetical points of view act as a guideline to assist the psychologist. This guideline will help him to understand their clients' issues and develop their solutions.
The type of client treatment is depending on different factors such as
Current psychological research
The theoretical orientation of psychologist
what is a suitable option for your situation?
Psychologists' theoretical perspectives will affect what goes on in his or her office. Cognitive behavior therapy has a practical treatment approach.
Your psychologist develops certain tasks to handle and helps you to develop coping skills. In this type mostly homework activities are assigned. Your psychologist may ask you to write your behavior about a specific condition when they occur and gather more information about your reactions. Your psychologist wanted you to practice new skills during the session.
For example, asking an individual who has elevator phobia to practice pushing the elevator button. You also have reading assignments o learn more about your problem and its solution.
In short humanistic and psychoanalysis, approaches pay more emphasis on talking than doing. You may discuss your past experiences during the session. In this way, your psychologist will understand the root cause of your problem effectively.
Psychotherapists use a combination of various types of psychotherapy. Most Psychologists do not stick to only one type of therapy. The combination of therapies uses according to the client's treatment needs. The basic thing is to understand either your psychologist is expert and skillful to deal with your problem or not. Either he/she will help you.
Qualification of a psychotherapists
A psychologist who gives psychotherapy is called a psychotherapist. Psychotherapists are specialized in psychotherapy and various other types of psychological treatment methods.  They are highly trained professionals who are experts in psychological assessment, diagnosis, behavioral modification, and treatment.
Psychotherapists have a graduation degree in psychology. They spend almost 7 years of education. They have doctoral degrees in psychology. They completed their supervised clinical internships in a hospital or health setting.

Follow