Strong Magnetic Pulses Cure Depression
Here in this post, we are providing "Strong Magnetic Pulses Cure Depression". You can discuss your concerns about mental health in our community, and we will provide you with tips and solutions in a short time. Keep visiting Mental Health.
Strong Magnetic Pulses Cure Depression
People with mood disorders may benefit from a novel treatment that uses rapid brain stimulation.
The vast majority of persons with depression do not have access to therapies that are effective, fast-acting, and long-lasting, even though depression is the largest cause of disability globally. A novel treatment that uses painless magnetic pulses to stimulate the brain appears to promise depression relief.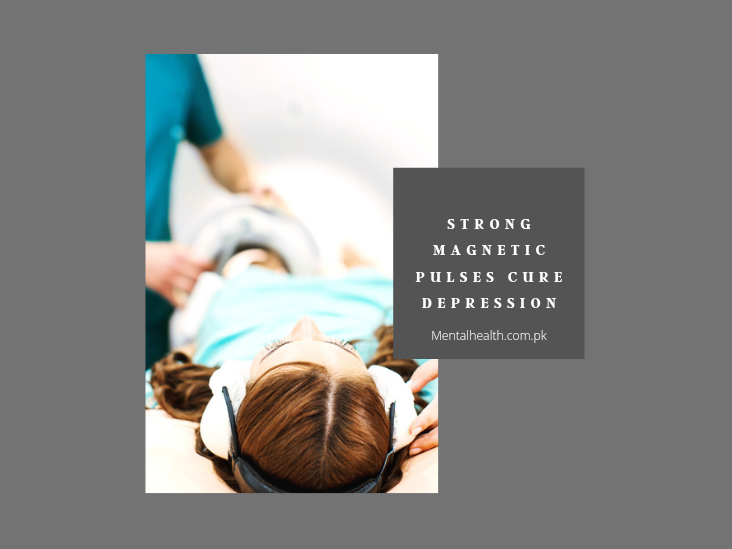 Treatments like SNT ("saint") at Stanford University Hospital have shown promising results in animal studies. Research published in the American Journal of Psychiatry in February 2022 stated that 78 percent of 29 patients in a Stanford University SNT experiment went into remission after just five days of treatment. A mild headache or weariness was the only negative effect reported by half of the individuals after four weeks of treatment.
According to Jonathan Alpert, Chair of the American Psychiatric Association's Council on Research, "it's quite tempting in the sense that it's a pretty non-invasive treatment that could prove effective for some people who don't react to drugs or talk therapy."
Antidepressants like Prozac and Zoloft, which are commonly given, can take weeks or even months to ease symptoms and have a long list of unwanted side effects. In addition, many patients find these medicines ineffective.
Alpert, who chairs the department of psychiatry and behavioural sciences at both Montefiore Medical Center and Albert Einstein College of Medicine, said that even after repeated treatments with standard antidepressants, "around 30% of people continue to be seriously sad."
In Alpert's view, the left dorsolateral prefrontal cortex and anterior cingulate cortex of the brain may interact differently in persons who are depressed. There are neuromodulation treatments such as SNT that can help regenerate damaged neuronal pathways.
Upping and Accelerating the Magnetic Dose
Nolan Williams, Stanford University Medical Center's Director of the Brain Stimulation Laboratory and senior author of the latest paper, began his research into transcranial magnetic stimulation eight years ago (TMS). The FDA approved this treatment for depression in 2008, involving the application of a magnetic coil to the scalp.
When it comes to standard TMS treatments, "we took the same 90,000 magnetic pulses used and reorganized them in space, time, and dose," explains Williams. While inefficiency increased dramatically, some persons were able to recover within a single or few days as a result of the change.
SNT conducts 50 sessions over the course of five days instead of 36 sessions spread out over six weeks. With the Theta burst technique, the dose is increased from 600 to 1,800 pulses per session with SNT.
A functional MRI is used to direct the magnetic pulses to the precise areas of each patient's brain that are impacted by mental illness in SNT, a major difference. "By employing machine learning, we were able to scan each person's brain and pinpoint the best treatment area within their unique neuroanatomy," explains Williams.
Williams points out that therapy options were constrained by technology when TMS was initially created 40 years ago. They were not based on mammalian physiology, either. Neurobiology discoveries and technological advances have made it feasible to better locate the areas of the brain that can be restored with magnetic stimulation.
Creating a Brain Map
Shan Siddiqi, an assistant professor of psychiatry at Harvard Medical School, collaborates closely with Williams on the SNT clinical studies to develop tailored treatment targets.
An expert in "brain mapping," "Magnetic resonance imaging (MRI) is used by Siddiqi to find the best treatment locations for a variety of mental diseases, including depression, OCD, PTSD, bipolar disorder, schizophrenia, and addiction. Besides TMS, these maps help target deep brain stimulation (a surgical implant) or ultrasound stimulation, which can be used in conjunction with deep brain stimulation.
Using a technique known as resting-state functional MRI, researchers may assess changes in the brain's activity without the need for invasive procedures. When comparing two brains, "we compare the brain to itself," argues Siddiqi. When that happens, we'll be able to figure out what's wrong with the brain's functionality."
Each brain receives 150 million data points from the functional MRI. "Data science challenges" can arise since the scans require specialized computer models and skills to decode, according to Siddiqi. Siddiqi, on the other hand, is confident that medical practitioners will soon have easier access to this technology.
According to Alpert, it's now difficult to get a functional MRI in order to use personalized neurostimulation treatments like SNT because just a few clinical settings have access to it. Mental health sufferers "need to block aside a full week for therapy," according to Alpert, and this may not be realistic for many people, especially because it appears likely that many may require repeat treatments several times per year.
Treatment of depression
In general, Alpert is heartened by the various new alternatives for treating depression, including magnetic stimulation, neuroactive steroids, ketamine, and psychedelic medications like psilocybin and MDMA. He argues that all of these new approaches "seem to work quite quickly," employing different processes to mend the brain than clinicians have utilized in the past to treat patients.
However, Alpert adds "the Holy Grail in our area remains how to anticipate who does best on which treatment," because each person responds differently to each sort of treatment."
A new study is looking into how different biomarkers can help doctors quickly match patients with the most effective treatment. Doctors could one day utilize a certain blood test, DNA testing, or MRI or EEG to identify whether a person would be best served by TMS, ketamine, or Prozac.
Larger NIH-funded clinical trials for SNT are presently underway as the FDA considers approving this potential medicine for the treatment of depression. How can I know who this is for? How long does it take? "Those are still unanswered questions," Williams says.
Despite the fact that there are currently no commercially available personalized neurostimulation systems in the US that can treat patients with SNT, Williams hopes that one day these systems (TMS coils and functional MRI machines) will be available at every psychiatric hospital or emergency room to treat depression and prevent suicide.
All of this new technology and treatments should be thoroughly tested and made available to patients as options," he says. Psychedelics may be desired by some, whereas transcranial magnetic stimulation (TMS) may be desired by others," says Williams. That they have easy access to more of whatever makes them healthier is critical, so they aren't at risk again."

Follow