MDD risk factors predicting Depression and Alzheimer
Here in this post, we are providing "Mild depression". You can discuss your concerns about mental health in our community, and we will provide you with tips and solutions in a short time. Keep visiting Mental Health.
Major Depressive Disorder risk factors
Late-onset Alzheimer's disease may be more common in people with depression, but a recent study suggests depression may help anticipate the condition.
Individuals who suffer from depression are more likely to develop late-onset Alzheimer's disease, and depression is a common comorbidity in patients with the condition.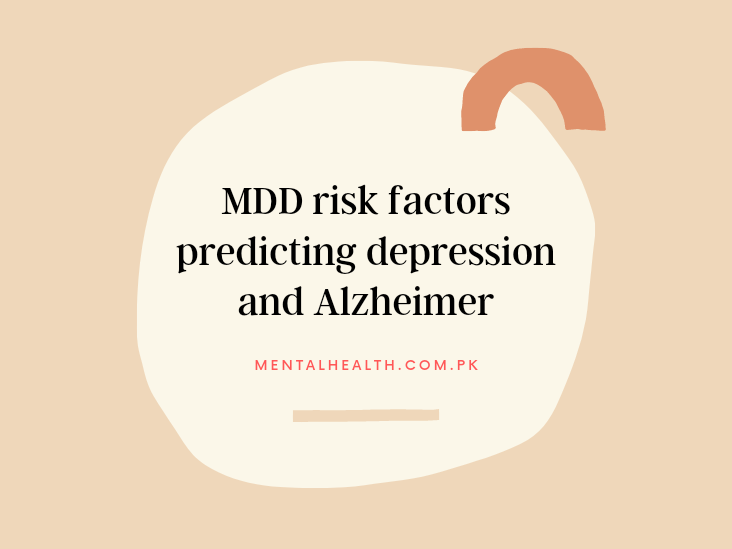 In spite of the fact that the genetic heterogeneity of depression and late-onset Alzheimer's disease is unknown, past research has shown that there are connections between these two illnesses.
As discovery and validation cohorts, the researchers used statistics from a genome-wide association study to produce polygenic risk scores (PRS) based on data from the Religious Orders Society (ROSMAP, n = 1708) and the National Alzheimer's Coordinating Center (NACC, n = 10,256). The data were utilized to evaluate the effectiveness of the PRS in predicting the onset of depression in Alzheimer's disease patients with late-onset.
In both ROSMAP (AUC = 0.540) and NACC (AUC = 0.527), stand-alone models showed minimal results for predicting the start of depression. Both ROSMAP (AUC: 0.606) and NACC (AUC: 0.604) exhibited an enhanced prediction of depression onset in full models, which included baseline age, sex, education, and APOE4 allele count (AUC: 0.581). Standalone PRS models were found to have a substantial influence in ROSMAP, but not in NACC (P = 0.0051) in a time-to-event analysis. Using the whole model, we were able to accurately predict depression in patients with late-onset Alzheimer's disease (P 0.001).
When it comes to depression in Alzheimer's disease, "this study revealed new insights into the genetic characteristics that contribute to depression onset and increased our knowledge of the genetic determinants driving the heterogeneity of depression in [late-onset Alzheimer's disease]," the authors wrote.
Those with depression are more likely to acquire late-onset Alzheimer's disease, which suggests that treating depression may help prevent Alzheimer's disease from progressing. Confirmation and replication of findings will require additional research.
References
1. Upadhya S, Liu H, Luo S, et al. Polygenic risk score effectively predicts depression onset in Alzheimer's disease based on major depressive disorder risk variants. Front Neurosci. 2022;16:827447.
2. Lyketsos CG, Carrillo MC, Ryan JM, et al. Neuropsychiatric symptoms in Alzheimer's disease. Alzheimer's Dement. 2011;7(5):532-539.